IMPORTANT: THIS IS GOING TO AFFECT YOUR BUSINESS!
On 21st April 2015 Google is introducing its biggest update and this will affect EVERY business that has an online presence. Due to the massive increase in the mobile internet, Google now wants to make sure that any web sites found on their mobile searches are mobile-friendly. What makes a web site mobile friendly? Well, if the site fits the page and can be accessed WITHOUT pinching and enlarging the screen, it's mobile friendly. The image below illustrates a mobile-friendly web page and how this contrasts with a non-mobile friendly web page.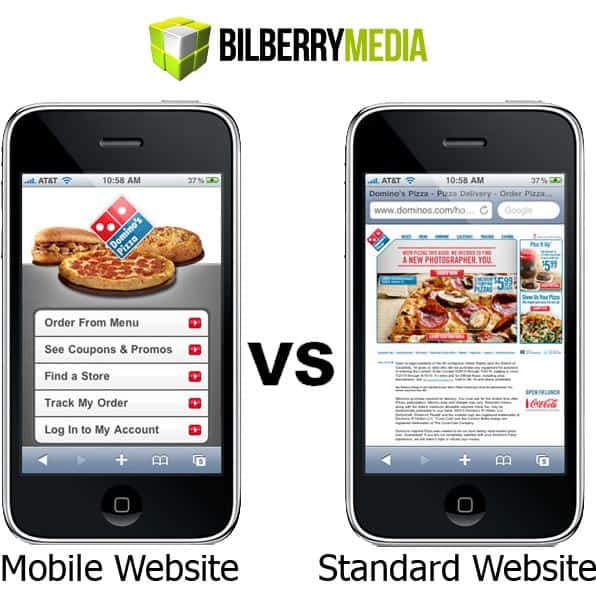 The new updates will mean that web sites that are NOT mobile-friendly will see their rankings drop faster than you can say 'What the hell just happened?'.
Mobile web sites are now critical to all businesses. Over 50% of ALL mobile searches end in a sale! 61% of mobile users say that they would not return to to a mobile web site if they had difficulties accessing the site.  In addition, 41% said that they have visited a competitor's web site when their first choice could not be accessed through a mobile device. Therefore, if your web site is not optimized for mobile users, you're losing business every day and as from 21st April you could wake up and find your entire presence on Google has gone. It's called Google slapping.
Costing a fraction of the cost of your standard web site, a mobile optimized web site opens your business to ALL mobile devices. There is no having to enlarge sections or scroll around a page to access information. Each page is accessed through a simple tab. Your mobile site is built to mimic the colours and design of your existing web site. It is hosted on our Cloud servers so there is NO downtime. All you need to do is paste a snippet a code in the header section of your homepage. Then whenever someone accesses your web site from a mobile device, they will automatically see the mobile version.